MIKE MA
Project Assistant
Location: Jupiter Dezhou, Shandong, China
Mike holds a Masters in mechanical engineering and possesses strong insight into project management from his background in mechanical engineering. Mike Ma joined the Jupiter Shandong team in Dezhou, China in November 2015 as a logistic specialist. He continually strives to develop new ideas and innovative solutions, which compliments the team perfectly.
"It's been exciting to work in project management with an engineering background, since it requires the ability to successfully balance overall project control and technical challenges" says Mike.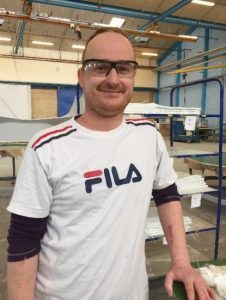 MERSID FIFIC
Lamination Operator
Location: Jupiter Orehoved, Denmark
Mersid has his roots in Bosnia, but came to Denmark in 1995 at the age of 11. Mersid has been a part of Jupiter since 2005 and worked at various facilities during his 12 years, fulfilling different tasks and responsibilities. Since 2011, Mersid has worked primarily with the lamination of nacelle and spinner covers at the Orehoved facility.
"I have always enjoyed working at Jupiter. Good colleagues and a strong team spirit, are the main reasons I enjoy working here" says Mersid.
ALEXANDER MAC LEACH
Process Engineer
Location: Jupiter Pensacola, Florida, USA
Mac is a hands-on engineer with a drive to succeed. He works together with production teams to improve the processes used for manufacturing composite parts.
Before coming to Jupiter, Mac completed an Engineering internship at Altec Fiberglass for the composites division. His responsibilities included, helping meet ISO 9001 standards and improving manufacturing processes.
"I was excited to come to Jupiter and be part of a team, that I feel is one of the most advanced in the nacelle field. I enjoy the ability to multi task in a work environment where I can not only share my ideas, but test them out and take them to serial production." says Mac.
DARIUSZ JUKUBCYZK
QEHS Manager
Location: Jupiter Police, Poland
Dariusz has extensive experience with implementing and maintaining quality systems in the automotive and renewable energy sector. In Jupiter Poland, he is responsible for the implementation and maintenance of the integrated quality system and the gradual transformation of inspection from control, to prevention and audit. Dariusz Jakubczyk joined Jupiter Poland in January 2017 and is pleased to be part of a work place where health and safety is so important.
"I have changed jobs a few times, but only at Jupiter was my start so easy. The first few hours in the organization showed me how professional and friendly my team was" says Dariusz.
Read more about how we work here
https://jupiterbach.com/wp-content/uploads/2017/06/jupitergroup-devoted-to-wind-700x490.jpg
490
700
Lise Johansen
https://jupiterbach.com//wp-content/uploads/2017/06/jupiter-bach-logo-black-300x26.png
Lise Johansen
2017-04-27 00:00:00
2017-06-19 15:30:09
The people behind!