As the wind industry keeps developing, we will keep exploring new ways to be responsible and efficient.
Our corporate spirit is We care. Jupiter Bach is committed to making a difference within the environment, human rights, working conditions and anti-corruption. We also adhere to Scandinavia's internationally respected standards. The safety of our employees in all markets is paramount and contributes to our excellent, efficient working environment.
As market leader in our field, we feel responsible for continuing to develop the industry. Our engineers are always looking for new ways to challenge the status quo. We are determined to make a profit from our investments – and to help you do so as well.
Health and Safety
Our people are our number one priority. Producing nacelle and spinner covers of fiberglass includes a number of relatively manual processes and needs thorough risk management. We believe that working at Jupiter Bach must be safe regardless of region or country.
We ensure safety via our global Health and Safety Management System. Its uniform processes and requirements are certified according to the OHSAS 18001 standard. Uniformity extends, for example, to personnel protective equipment, risk evaluation, chemical management, injury reporting and investigation, and near-miss reporting.
When ensuring a safe work environment the safety culture and behaviours are of outmost importance. Safety first to us means:
THINK TWICE
Take a moment up front to ensure that your behavior and actions are safe
TAKE CARE
Always take care of yourself, your colleagues and others around you
TAKE AWAY HAZARDS
Be proactive and remove any hazards you see to avoid unsafe situations
Carbon footprint
Jupiter Bach is committed to helping fight climate change. That's why we have established transparency by tracking and calculating our carbon footprint according to the recognized Greenhouse Gas Protocol. We also use the information to target our efforts. To secure an environmentally sound operation and continuous improvements, all Jupiter Bach units comply with our Global Environmental Management system. The system is ISO 14001 certified.
Recycling matters!
We recycle and reuse whenever possible to keep quality standards up and production costs down. The recycling of our production waste has enabled both the establishment of new industries and their continued growth.
Chemical management
Chemical management is essential. We set common minimum requirements for all units that go beyond legal regulation and legislation. We have strong processes covering chemical handling and disposal, risk management, personnel protective equipment, and evaluation of chemicals, including a chemical blacklist. Before introducing a new chemical in Jupiter Bach, the hazard profile is assessed carefully to ensure compliance with our internal requirements. If not, the chemical is rejected.
Jupiter Bach has a global management system covering Quality, Health & Safety and Environment. All our units across the world are subject to the management system and certified by ISO 9001, OHSAS 18001 and ISO 14001 via a multisite certification.
We are devoted to wind
Our work is ambitious, and we must ensure that we are profitable to meet the ever-increasing requirements from the market.
Meeting industry's demands since 1982
Within the field of nacelle and spinner covers we are best-in-class, and our track record includes more than 60,000 wind turbines around the world.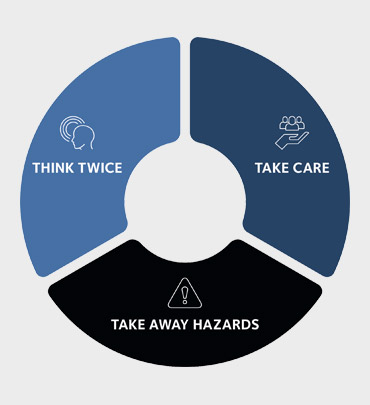 https://jupiterbach.com/wp-content/uploads/2021/05/jupiter-bach-news-1210x423-1.jpg
423
1210
Lise Johansen
https://jupiterbach.com//wp-content/uploads/2017/06/jupiter-bach-logo-black-300x26.png
Lise Johansen
2021-05-04 18:51:23
2021-05-06 15:30:23
Take Care – Take away Hazards – Think Twice
https://jupiterbach.com/wp-content/uploads/2021/03/jupiter-bach-news-sbti-v2-2021-03-19.jpg
423
1210
Lone Stubberup
https://jupiterbach.com//wp-content/uploads/2017/06/jupiter-bach-logo-black-300x26.png
Lone Stubberup
2021-03-19 14:50:11
2021-05-06 15:11:12
We have committed to set ambitious long term carbon reductions targets