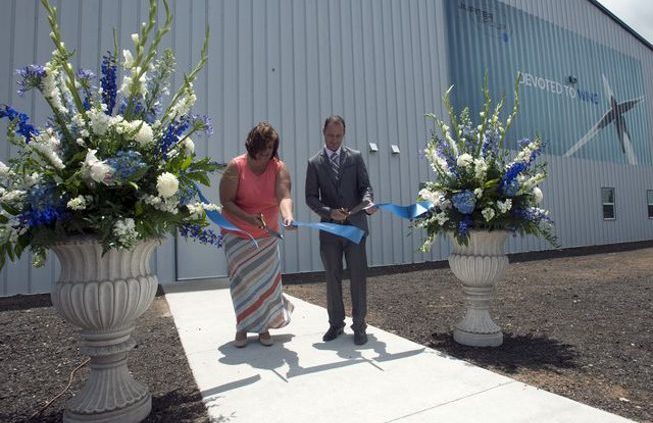 Grand Opening celebrates increased capacity to support North American customers
With much excitement and great fan fair Jupiter Group celebrated the Grand Opening of the expansion in the US facilities located in Pensacola late May.
Jupiter Group CEO Jens Kristensen along with Plant Manager Sean Guidry were joined by leaders from the community to celebrate this momentous Grand Opening event and to make it official that Jupiter Group is growing.
This expansion is the third of its kind in 2 years for Jupiter Group, and comes at just the right time as the need for capacity in the US market is growing and in demand. The new building is designed as an assembly hall with lean methodologies in mind, along with variability for different product lines. The assembly hall has freed up much needed space in the manufacturing building where Jupiter Group PNS is casting wind turbine nacelle cover and spinner components. The expansion has doubled the facilities capacities and is prepared for new orders.
Jupiter Group's intention in the US market is to grow market share in the wind energy sector. As Jupiter Group is "Devoted to Wind" it allows a focus and flexibility which has made Jupiter Group the preferred supplier that it is today.
Read more about our Devotion to Wind here.
And while Jupiter Group does enjoy a strong customer portfolio there is still room for growth, and Pensacola is prepared to deliver.
The new assembly hall is built with change in the markets and product lines built in. The idea that an assembly line has to go one way or another is thrown away. The crane arrangements wave goodbye to bottle neck risks, and the workstations are built to be mobile. Pneumatic and electrical infrastructure was installed for growth and flexibility allowing for seamless change and increases. The assembly hall also houses the new hire training center along with offices for the quality team.
Though the expansion is only increasing the original space by 50% it is doubling the capacity. With the ability to re-write the floor plan and product flow the Jupiter Group Pensacola facility is consuming space with utmost efficiency. With this new capacity Jupiter Group is reinforcing the commitment to wind and making sure that our customers have a home for their demand.
https://jupiterbach.com/wp-content/uploads/2017/06/Grand-Opening-Pensacola-May-2016-e1465365197347.jpg
490
653
Lise Johansen
https://jupiterbach.com//wp-content/uploads/2017/06/jupiter-bach-logo-black-300x26.png
Lise Johansen
2016-06-08 00:00:00
2017-06-19 14:41:40
Grand Opening celebrates increased capacity to support North American customers