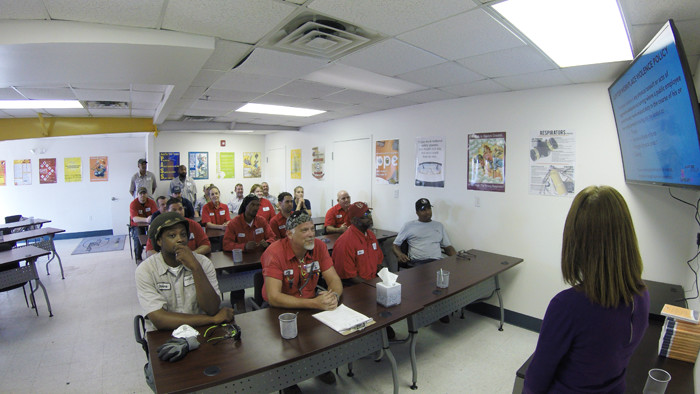 Strength through knowledge and great partnerships
In the modern age of advanced industrial processes and precision quality requirements it is imperative that the people leading up this effort on the shop floor have the tools necessary to succeed.
Jupiter Group is proud to announce the partnership with Landrum HR who is performing a multi-week leadership training course with all the line leaders and supervisors of Jupiter Group Pensacola.
The team leads and supervisors are the lifeblood of the direct operation and a huge part of what has made Jupiter Group the success that it is today. We recognize the importance of this team and want to make sure that everything possible is being done to ensure they are the best leaders that they can be. Landrum HR is assisting with this goal, in the training seminars that they are delivering over the coming weeks. These training sessions are part of Landrum's Leadership Development Certification Series and are tailored to fit the Jupiter Group mission and values.
The training will consist of 5 main modules which target the enhancement of supervisors' ability to lead in today's manufacturing environment. They will be given training on skills to deal with conflict resolution, coaching, progressive discipline, and best practices just to name a few.
Wind Energy is a fast growing sector and Jupiter Group is poised to grow right along with it. A company must look to the future and invest in the health of its assets. This can also be said for the health and advancement of its most valuable assets which are the people. We thank Landrum HR and all the line leaders who are going on this journey with us and look forward to the next step.
Read more about How we work
https://jupiterbach.com/wp-content/uploads/2017/06/Landrum.jpg
394
700
Lise Johansen
https://jupiterbach.com//wp-content/uploads/2017/06/jupiter-bach-logo-black-300x26.png
Lise Johansen
2016-11-23 00:00:00
2017-06-19 15:38:30
Strength through knowledge and great partnerships